Kelvinator Tune-Up Maintenance Kit Parts (1 results)
Kelvinator Maintenance Kit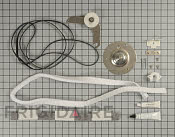 Dryer preventative maintenance kit. The kit includes: Instruction Sheet, Rear bearing kit, Upper drum glide, Lower drum glide, Idler arm assembly with pulley & Drum belt. 1992 thru 2001 models. This dryer maintenance kit contains all of the parts that are commonly defective when the dryer is noisy.
OEM Part - Manufacturer #5304461262
Hazardous Material – Special Shipping Required
Order now and this item will ship out TODAY!