Oven/Microwave Combo Cleaner & Deodorizer Parts
Item # 496592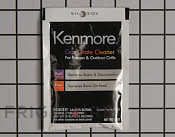 Gas grate cleaner for removing stains, discoloration, and burnt on food. Mix with two gallons of water and let your grates, BBQ grills, or burner caps soak overnight for best results. Rinse and wipe clean before use.
OEM Part - Manufacturer #316119700
Item # 937795
Stainless steel cleaner 1 oz.
OEM Part - Manufacturer #316136900
Item # 1064570
Stainless steel cleaner
OEM Part - Manufacturer #318163602