Washer/Dryer Combo Orifice (3 results)
Washer/Dryer Combo Orifice
The Frigidaire Burner Orifice controls gas flow in dryers and replaces multiple part numbers. Safety precautions and consulting the owner's manual are recommended before attempting repairs.
OEM Part - Manufacturer #5303207410
Order by 4:30 PM ET, this part ships TODAY!
Washer/Dryer Combo Orifice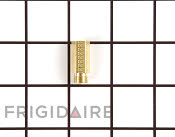 This is a Genuine Replacement Part,The Model Number and Name for The Following Item: Frigidaire (FRIGB) 5303207411 Dryer - Seal
OEM Part - Manufacturer #5303207411
We sell the real thing!